Knight Logistics is covered by liability insurance inluding E&O policy upto USD 1 million by Lloyd's, the world's leading insurance company. This is the reflection of our extraordinary strong commitment of quality & reliable services to our clients & partners. Moreover, to provide client with more options to hedge over the risk involved in transportation, Knight Logistics signed agency contract with noble insurance company, offer cargo insurance.
Chubb is the world's largest publicly traded property and casualty insurance company. With operations in 54 countries and territories, Chubb provides commercial and personal property and casualty insurance, personal accident and supplemental health insurance, reinsurance and life insurance to a diverse group of clients. As an underwriting company, we assess, assume and manage risk with insight and discipline. We service and pay our claims fairly and promptly. The company is also defined by its extensive product and service offerings, broad distribution capabilities, exceptional financial strength and local operations globally. Parent company Chubb Limited is listed on the New York Stock Exchange (NYSE: CB) and is a component of the S&P 500 index. Chubb maintains executive offices in Zurich, New York, London, Paris and other locations, and employs more than 31,000 people worldwide.
Chubb has both general insurance and life insurance operations in Vietnam. Its general insurance operation in Vietnam (Chubb Insurance Vietnam Co., Ltd.) offers specialized and customized coverages for Property, Casualty, Marine, Financial Lines, Energy & Utilities, as well as Accident & Health. Chubb in Vietnam leverages global expertise and local acumen to tailor solutions to mitigate clients' risks. In addition, the company focuses on building strong relationships with clients by offering responsive service, developing innovative products and providing market leadership built on financial strength.
More information can be found at: www.chubb.com/vn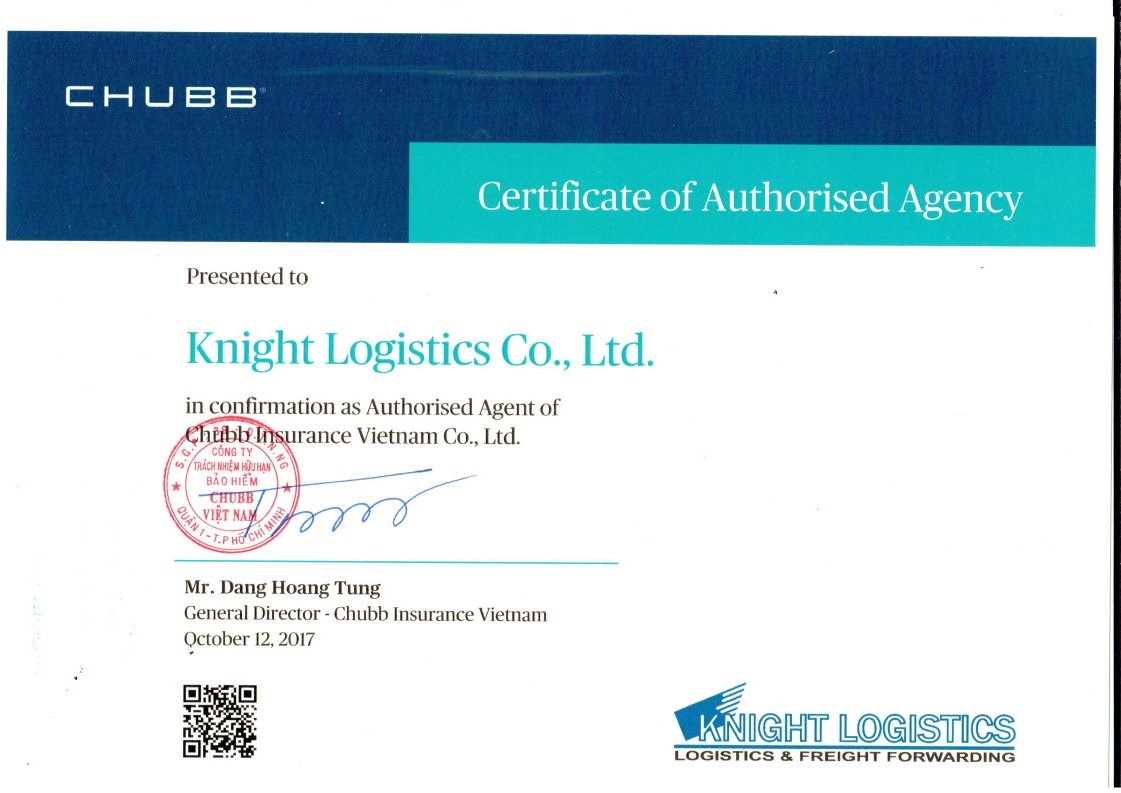 Some cargo insurance related services which Chubb authorise Knight Logistics as its agent in Vietnam to serve clients:
1. Introduction & sales of cargo insurance policy;
2. Insuance contract arrangement;
3. Insurance premium collection;
4. Arrangement of claim & reimbursement in case of insurance incident occurrence;
Contact Knight Logistics Today
Email: overseas@knight.com.vn / Wechat: VN938704848
We strive to provide both professional and highly personalized services.
Contact Knight Logistics Vietnam to learn more about our customs brokerage services.