Pointing to what he perceived as a failure by retailer managers to understand the post-Covid reorientation, Kemmsies told VOTI in July few people had considered how high spending on consumables had been driven during the pandemic.
"As countries came out of lockdowns, retailers failed to consider how this would lead to less spending on consumables and more on services," he added.
"Rather than acknowledge this mistake we saw CEOs of poorly performing businesses talking the US into recession by claiming consumers were not spending; in reality, it was a reversion to pre-pandemic spending."
If Kemmsies' assessment is correct, with the economy having failed to tank in the way predicted, large retailers look set to find themselves understocked for the peak season.
Resultantly, with shipping too slow to meet the holiday rush, he suggested that retailers, desperate for capacity, will gobble up as much of the airfreight space as they can surging rates and creating yet another boom era for the carriers.
Positive market sentiment among the airlines though remains muted at present, although at least two major cargo carriers saw signs for optimism.
"We're now into traditional peak period and we're seeing very encouraging demand out of our home market of Hong Kong, in particular to North America, which is being driven largely by e-commerce," said Cathay Pacific's GM Cargo Commercial, James Evans.
"We have added more weekly freighter services to North America and we're seeing healthy demand from there as well."
"We don't expect the peak will match last year – the market is very different from a year ago, as all our customers have been conveying to us – but we're feeling optimistic and continuing with our plans for five more weekly transpacific services per week from this month."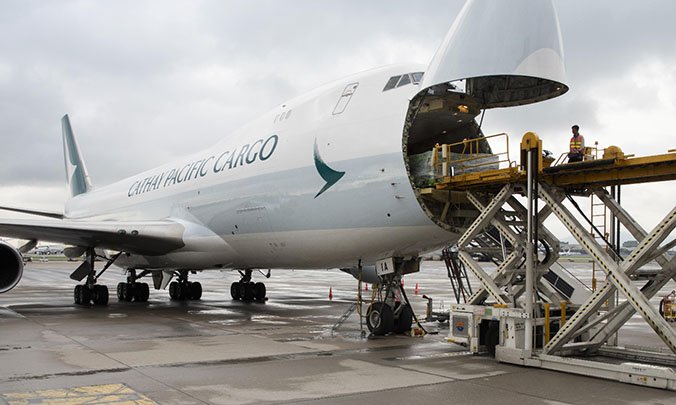 Likewise, Lufthansa Cargo has upped its 2023/2024 winter flight schedule, with increased frequency to destinations in high demand.
This has included increasing its services into Hong Kong, routing via Mumbai, and services into Mexico City from six to seven flights a week while it has also added a new destinations in a combined connection from Frankfurt via Riyadh to Taipei.
Chief executive Ashwin Bhat said: "The market for airfreight is and remains volatile, but Asia and Mexico continue to be attractive, economically strong regions for us."
"The additional capacity of our seventeenth Boeing 777 freighter in our long-haul fleet offers opportunities to specifically adapt the flight offering to the needs of our customers in these markets."
AIRFREIGHT MAY COME UNDER STRAIN BEFORE THE YEAR IS OUT - VOICE OF THE INDEPENDENT Oct 2023, http://digital.worldlogisticsmedia.com/VOTI_142/VOTI_142.pdf